We are a local Fence contractor with a wide range of clientele throughout Nashville, Clarksville and the Middle Tennessee area. Our staff has extensive experience installing fences of all types and sizes. You can count on us to work with you every step of the way to ensure your fence project is completed on time and on budget! If you are looking for a local fence company near you, give us a call today. Fence financing is available for our customers. Contact us to find out more details or click on the Finance link at the top of the page.
If you're planning to install a fence for your home or commercial property in Nashville, you may be wondering how to pay for the project. Fortunately, there are fence companies in Nashville that offer financing options to help you cover the cost of your fence.
Fence company financing is a convenient way to pay for your fence installation or repair without having to pay the entire amount upfront. This option allows you to spread out the cost over time, usually with monthly payments or a payment plan that fits your budget.
When choosing a fence company that offers financing, it's important to look for a reputable and trustworthy contractor that has experience in the fencing industry. You should also compare their financing terms and interest rates to make sure you're getting a fair deal.
Some fence companies that finance may require a credit check or collateral, such as a lien on your property, to secure the loan. However, there are also options for no-credit-check financing or financing with low or zero down payment.
One of the benefits of working with a fence company with financing is that you can get your fence installed sooner rather than later, which can improve the security, privacy, and aesthetic appeal of your property. Moreover, a well-built fence can increase the value of your property and reduce the risk of liability issues, such as accidents or trespassing.
When searching for fence companies in Nashville, you may want to start with local contractors that have a proven track record of quality workmanship and customer satisfaction. You can check their online reviews, ratings, and testimonials, as well as their licensing, insurance, and certifications to ensure they meet the standards of the fencing industry and comply with the local building codes and regulations.
Whether you need a chain link fence, a wooden fence, a vinyl fence, or any other type of fence, there are fencing companies near you that can provide the right solution for your needs and preferences. Contact a fence contractor today to get a free estimate and learn more about their financing options.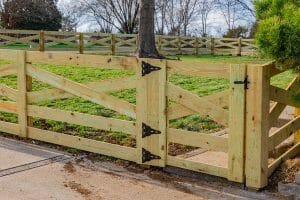 Our track record of accomplishment and as a reputable fence company in the Nashville, Clarksville, and Middle Tennessee areas are second to none. We are A+ BBB Rated, Angies List A, and Home Adviser Screened and Approved . We ensure that all projects are done with utmost professionalism using the highest quality materials while providing exception customer satisfaction.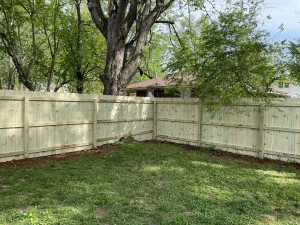 We all love our pets, and having the proper fence is essential in protecting the safety of your animal in Davidson and surrounding counties of Nashville, and Clarksville. Keep your family & pets safe with any of our fences, from chain link fencing to wood fencing. With our quality fences you'll rest easy.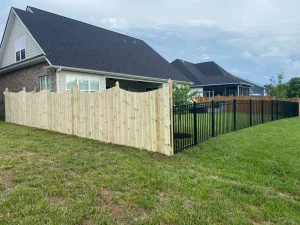 We offer a wide range of fence styles for your home, including wood, aluminum, chain link, PVC, pool fencing and more. Our staff is highly trained and thorough, giving attention to details and ensuring everything is done correctly. Keep your home looking in Nashville, Clarksville, or the Middle Tennessee area its best with a new fence today.
We strive in offering the best professional residential fencing at the best pricing available. We work with the finest fencing manufacturers to ensure that you get the best fencing materials for all of your fencing needs.
Our number one goal is your complete satisfaction.
Call us today to see how we can help you get the perfect fence.
Choosing your fencing style is very personal. Our highly qualified and trained professionals will help you choose the best option for your Middle Tennessee property or home.
There are many different styles and materials available for your new fence. Contact us today to discuss getting the fence style you have always wanted.
Some dogs are escape artists! However, we strive to do our best to help you contain them.
From chain link fencing to beautiful wood fencing, we have styles to match your landscaping desires and that is functional as well.
Call us today to discuss your needs. (615) 995-8548
What Our Customers Are Saying
Don't just take our word for it.

Eric G
Client
We are very pleased with the customer service, quality and workmanship of our fence from Yard Dog Fence. I highly recommend this company.

Ava L.
Client
I had this company do a fence for me back in May, and it is perfect. 5' black chain link around about half an acre. They not only beat Home Depot's price, but they made a better fence. They put concrete footing at every post, something Home Depot doesn't do, and a tension wire all around so my dogs wouldn't dig under it. The job was done very quickly, and it looks amazing.

MIke B.
Clietn
Excellent job on my modern fence in Sylvan Heights! I highly recommend Yard Dog. Mike and his team are fantastic. Quality work, on time with great communication.
We are pleased to announce that Yard Dog Fence is now servicing more of Middle Tennessee than ever before! Our crews are now going to Nashville, Clarksville, Hendersonville, Goodlettsville, Franklin, Mt. Juliet, Lebanon, Nolensville, Spring Hill, Murfreesboro and more!
Call us today to schedule your No-Hassle, Free Quote on your new fence in any of these areas.